15.07.30
Swisselectronicmusic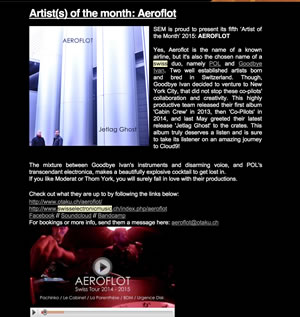 Artist(s) of the month: Aeroflot

SEM is proud to present its fifth 'Artist of the Month' 2015: AEROFLOT Yes, Aeroflot is the name of a known airline, but it's also the chosen name of a swiss duo, namely POL and Goodbye Ivan.

Two well established artists born and bred in Switzerland. Though, Goodbye Ivan decided to venture to New York City, that did not stop these co-pilots' collaboration and creativity. This highly productive team released their first album 'Cabin Crew' in 2013, then 'Co-Pilots' in 2014, and last May greeted their latest release 'Jetlag Ghost' to the crates.

This album truly deserves a listen and is sure to take its listener on an amazing journey to Cloud9! The mixture between Goodbye Ivan's instruments and disarming voice, and POL's transcendant electronica, makes a beautifully explosive cocktail to get lost in. If you like Moderat or Thom York, you will surely fall in love with their productions.